Semi-finals:
[1] Mohamed El Shorbagy (EGY) bt [4] Andrew Wagih Shoukry (EGY)
11-7, 11-9, 11-6 (37m)
[2] Ivan Yuen (MAS) bt [17/32] Aurangzeb Mehmund (PAK)
11-6, 11-9, 11-3 (28m)
[4] Nour El Tayeb (EGY) bt [1] Dipika Pallikal (IND)
11-6, 8-11, 11-8, 11-7 (33m)
[9/16] Nour El Sherbini (EGY) bt [8] Maria Toor Pakay (PAK)
11-8, 11-6, 11-6 (20m)
El Tayeb Topples Pallikal
Howard Harding reports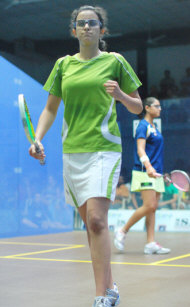 Dipika Pallikal's bid to become the host nation's first ever world squash champion ended in disappointment in the semi-finals when the top seed tumbled out in four games to fourth seed
Nour El Tayeb
.
El Tayeb, a 16-year-old from Alexandria ranked 60 in the world rankings, took the first game before 17-year-old Pallikal - 12 positions higher in the world list - drew level.
But the fourth-seeded underdog fought back to take the next two games to record a stunning 11-6, 8-11, 11-8, 11-7 victory in 33 minutes.
"I was trying to keep the ball off her forehand - she's so strong there, she can kill the ball at will," said El Tayeb. "My coach devised a plan for the match and I stuck to it as much as I could.
"I've spent the last six months thinking of this semi-final, but on the bus on the way here I didn't believe I could win it. I didn't think about winning until I got to match ball. I remember Heba being so far ahead yesterday and not winning.
"I don't know how I feel now, to beat Dipika, here in India, it's such a feeling. I'm in the world final!"
In only the second all-Egyptian final in the event's history, Nour El Tayeb will face compatriot
Nour El Sherbini
, a 9/16 seed who continued her giant-killing charge through the event with an 11-8, 11-6, 11-6 defeat of Pakistan's No8 seed Maria Toor Pakay in just 20 minutes.
"I didn't feel any pressure going into this match, even though it was quite different from yesterday's. I was just trying to keep the ball tight to the back, and put in dropshots when it was loose, and I think I played to that plan well," explained the 13-year-old from Alexandria.
"I've played Nour a few times already, and won most of them, but tomorrow will be different. It's a final and we'll both be trying our best to win."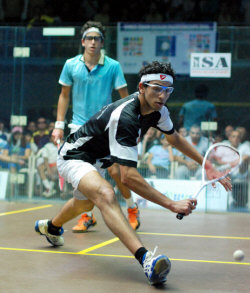 Egyptian
Mohamed El Shorbagy
is now one win away from becoming only the second player in history to successfully defend the men's title after beating fellow countryman Andrew Wagih Shoukry, the fourth seed, 11-7, 11-9, 11-6.
"I played very well today," admitted the 18-year-old from Alexandria. "In all the matches so far I've been playing the player and the pressure - and haven't been able to cope with both at the same time.
"Today I played the pressure and the player and beat both of them. My concentration didn't drop at all, except for a short spell at 6-3 in the second - but you can't expect to keep full concentration for a whole match, one small lapse is acceptable.
"I was really nervous before the match, but I talked to my mum and she made me so relaxed - she's amazing."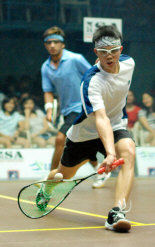 The favourite, ranked 17 in the PSA world list, will now face Malaysia's
Ivan Yuen
, the No2 seed who beat Pakistan outsider Aurangzeb Mehmund 11-6, 11-9, 11-3 in just 28 minutes.
"I feel I'm playing pretty well," said Yuen, who has only dropped one game throughout the tournament. "I hadn't played him before, so I had to just try to keep it steady and see what happened. I'm so very glad I played well here, it was a nice feeling when he stopped in the middle of the third.
"I've been thinking about this final for a while, so it's nice to actually get there. I hope I play as well tomorrow and we have a good final," added the 18-year-old from Selangor.
The pair met at the quarter-final stage last year - and in the British Junior Open final earlier this year - El Shorbagy prevailing in both. "I've watched Ivan playing this week, he's playing very well," admitted the favourite. "It should be a harder match than the British, and that was pretty difficult!"