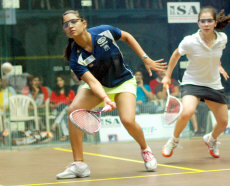 After two days of two rounds it was back to sanity with the quarter-finals today, with a definite Egyptian flavour to them - six girls and three boys gave Egypt over 50% of today's competitors, underlining their recent dominance at junior and senior level.
If
Dipika Pallikal
is to win India's first-ever world squash title the chances are she'll have to beat four Egyptians in a row to do it, and if
Mohamed El Shorbagy
is to retain the boys' title there's a good chance he will have to beat players of different nationalities in each of his five matches ... the luck of the draw!
In the event both top seeds came through with only minor scares - both dropping a game - but the story of the day has to be the performances of unseeded (or seeded so low it doesn't really count)
Nour El Sherbini
and
Aurangzeb Mehmund
.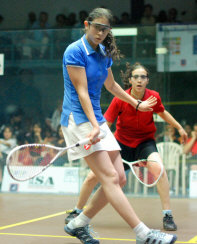 Sherbini's recent form suggested at the very least a close match with compatriot Heba El Torky, the second seed, and so it proved. At 2-1 and 9-4 the game looked up for Sherbiny, but she staged a stirring comeback to reach the semi-finals at just 13 years of age.
Mehmund's story is equally remarkable. Having despatched the fifth seed in a marathon five-setter yesterday, he repeated the performance, prevailing over Lucas Serme in the longest match of the tournament.
Another special mention goes to
Maria Toor Pakay
, who becomes Pakistan's first ever girls' semi-finalist (she was probably the first quarter-finalist too).
The other semi-finalists are
Ivan Yuen
,
Nour El Tayeb
, and
Andrew Wagih
. As the saying goes ... read all about it (on the main site)
Quarter-Finals:
[1] Dipika Pallikal (Ind) bt [5] Nouran El Torky (Egy) 11/6, 4/11, 11/8, 11/6 (37m)
[4] Nour El Tayeb (Egy) bt [9/16] Salma Hany (Egy) 11/7, 11/6, 11/1 (21m)
[8] Maria Toor Pakay (Pak) bt [9/16] Kanzy El Defrawy (Egy) 6/11, 11/4, 11/9, 8/11, 11/8 (47m)
Nour El Sherbini (Egy) bt [2] Heba El Torky (Egy) 11/8, 8/11, 11/9, 11/13, 11/8 (61m)
[1] Mohamed El Shorbagy (Egy) bt [9/16] Raphael Kandra (Ger)11/7, 7/11, 11/9, 11/8 (44m)
[4] Andrew Wagih (Egy) v [8] Farhan Zaman (Pak)11/8, 11/7, 11/8 (25m)
Aurangzeb Mehmund (Pak) bt [9/16] Lucas Serme (Fra) 8/11, 11/9, 7/11, 11/8, 11/8 (93m)
[2] Ivan Yuen (Mas) bt [6] Amr Khaled Khalifa (Egy) 11/3, 11/8, 11/7 (39m)