Today's evening session saw the last sixteen rounds in both girls and boys draws, the girls having played their fourth round earlier in the day.
Local favourite and top seed Dipika Pallikal opened proceedings on the showcourt, ending the run of unseeded young Egyptian Yathreb Adel, but after that there was no stopping the Egyptians as they claimed six of the remaining places in the quarter-finals.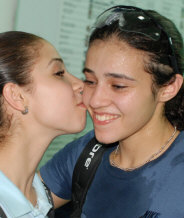 Nouran and Heba El Torky, Salma Hany, Nour El Tayeb, Kanzy El Defrawy and Nour El Sherbini took up those places, with Pakistan's Maria Toor Pakay claiming the final spot.
In the boys' event top seeds Mohamed El Shorbagy and Ivan Yuan won comfortably enough, but these two plus Andrew Wagih, Amr Khaled Khalifa and Farhan Zaman remain from the top eight seeds.
France's Luca Serme, Germany's Rafael Kandra and Pakistan's Aurangzeb Mehmund - who won a nail-biting match to put out fifth seed Alfredo Avila in five - claimed unexpected quarter-final places.