Yethreb & Egyptians march on,Sobhy stuns Gemmell ...
Having beaten the 9th seed yesterday
Yethreb Adel
continued on her winning ways with a straight-games win over 18th seed Milou Van Der Heijden.
"I can't believe it," said a delighted Yethreb, "I'm the youngest one here and now I'm in the last 16!".
Yethreb is joined by six other Egyptians -
Heba & Nouran El Torky, Nour El Tayeb, Nour El Sherbiny,Kanzy El Defrawy and Salma Hany
in tonight's last sixteen, and
Yathreb faces the daunting task of meeting top seed
Dipika Pallikal
on her home turf. The top seeds cruised through her early-morning match, playing up to her favourite's billing so far.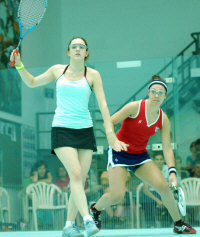 That wasn't so much of a shock, but the final match of the round saw the departure of third seed
Laura Gemmell
, one of the pre-tournament favourites.
USA number two
Amanda Sobhy
, 16 last month, took a two-game lead, and at 6-3 in the third it looked all over for the Canadian favourite. Gemmell dug in to pull that back 11/9, but Sobhy came out firing in the fourth, building another big lead and this time there was no mistake.
"That's probably my best win so far, certainly the best in juniors," said a delighted Amanda.
"I'd never played her before, but I knew she was very consistent. So I had to compete with that, keep the rallies going and not hit any tins. It paid of, and towards the end I kept telling myself that she must be tired too, because I was.
"I had a lead in the third, let that slip, but once I'd got a bigger lead in the fourth there was no way I was going to blow that one too ..."
It was a good morning for the USA, with
Olivia Blatchford
- expectedly - and
Elizabeth Eyre
- who scored an upset win over England's Kimberley Hay - joining Amanda in the last 16.
The Malaysian pair of
Low Wee Nee
and
Nessrine Ariffin
both reached their seeded positions, with Canada's
Samantha Cornett
and Pakistan's
Maria Toor Pakay
making up the final sixteen.